Main content starts here, tab to start navigating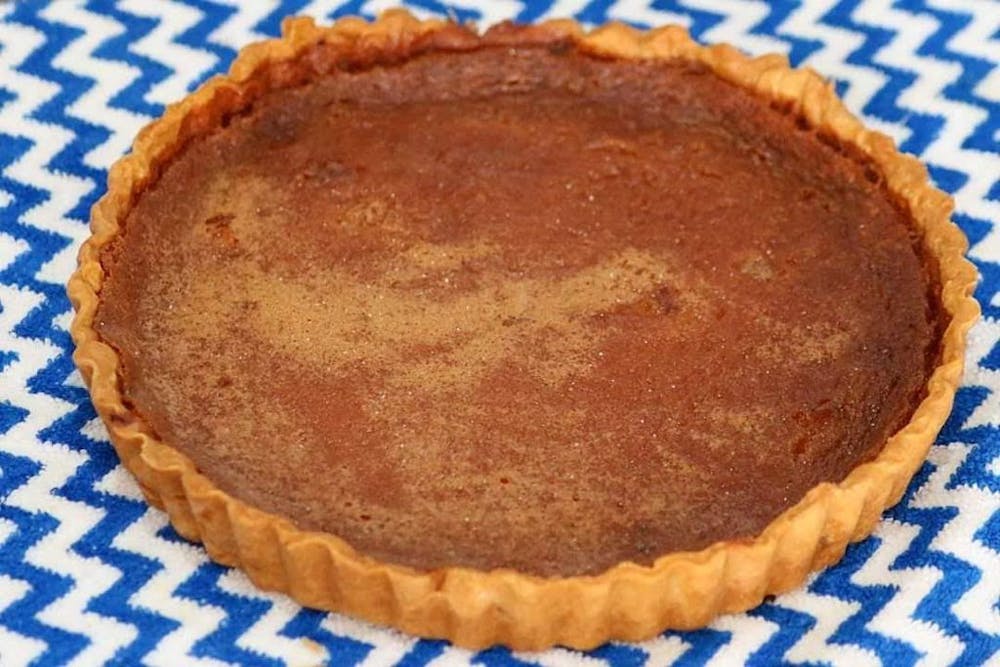 Honey Tart Recipe
For Rosh Hashanah, or anytime you need something sweet.
Ingredients:
¾ cup honey
1 stick of butter
1 tsp salt
¾ cup sugar
½ cup heavy cream
¼ cup cornstarch
3 eggs
1 tbsp white wine vinegar
Mechanics:
Preheat the oven to 300℉

Combine honey, butter and salt in a small pot and bring to a boil.

Remove the pot from the flame and add sugar until it completely dissolves.

In a large mixing bowl, whisk together the cornstarch and heavy cream. Slowly add this mixture to the pot in 3 parts, mixing continuously.

Beat in eggs one by one. Be sure to keep mixing the whole time.

Mix in the vinegar.

Pour everything onto the half baked pastry crust. Bake tart in the preheated oven for 40 minutes, or until golden brown.
For the Pastry Crust:
1 cup flour
½ cup powdered sugar
5 tbsp cold butter, cut into small pieces
1 egg yolk
+ a round tart tin
Mechanics:
Pulse flour, sugar and butter in a food processor until the mixture is coarse and crumbly.

Add the egg yolk and pulse again until it's almost formed into a dough.

Turn the mixture out onto a floured surface and knead until a dough forms. Form the mixture into a disc, wrap in plastic and chill in the fridge.

To bake, preheat oven to 350℉. Remove the disc from the fridge, unwrap it and lightly dust it with flour. Roll the dough out until it fits the size of your tart tin. Gently transfer the dough into the tin and use your fingertips to press the dough into and against the bottom and up into the inside walls of the tin. Once finished, cut any overhang.

Cover the tin with foil and place pie weights or dried beans on top. Place the crust in the preheated oven and bake it for 20 minutes. Remove the crust from the oven and remove the pie weights and foil. Cool completely on a wire rack before filling.